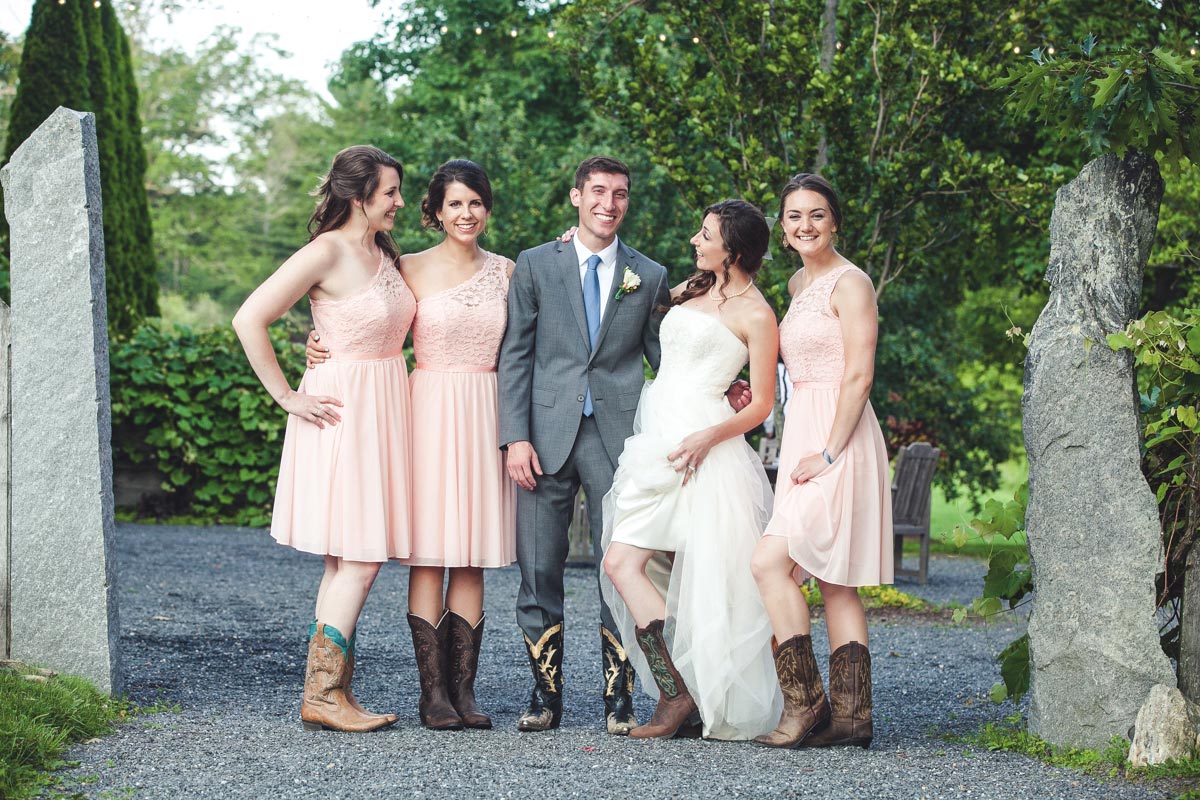 Jacob Samantha's Summer Wedding in the Berkshires
It was a beautiful Fourth of July day in the Berkshires; an already romantically significant date about to become even more special. Jacob and Samantha met for the first time at a friend's house on the Fourth of July. They began dating two years later after a week of ice fishing, snowmobiling and snowboarding in the Catskills. From then on, they celebrated every Fourth of July in the Berkshires watching the James Taylor concert at Tanglewood. So, it seemed like fate when Gedney Farm offered them an opening on the Fourth of July for their wedding day.
They wanted the wedding to elegantly represent their nature-loving personalities and rustic backgrounds. The barn at Gedney was the perfect place to set the scene.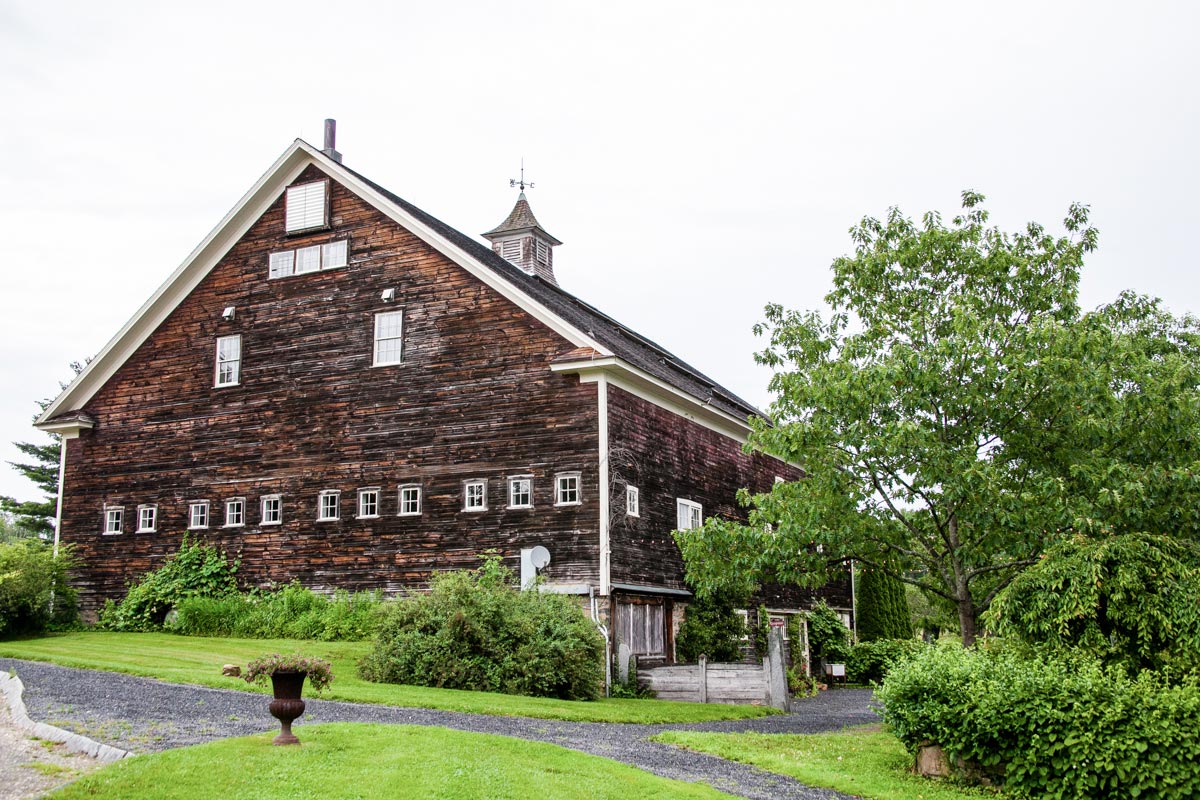 The Wedding Day
The day started out overcast and cloudy, and the rain began to fall around mid-morning. What was supposed to be an outdoor ceremony on the knoll, became an intimate gathering in the barn's loft. Everyone's excitement and happiness was almost palpable, and the rain couldn't dampen their spirits. As it turned out, the sun came out just before the couple were about to sign the Ketubah! It was one of those moments that make you believe everything happens for a reason.
The loft was the perfect place for the ceremony. Being indoors made it easier for everyone to hear as the couple exchanged their vows. The chuppah they stood beneath was a gift built by Samantha's sister and brother-in-law out of birch trees given to them by family friends. Throughout the ceremony, soft sunlight shone through the windows, adding to the ambiance of the room and creating a truly magical moment.
After the ceremony, guests enjoyed drinks and hors d'oeuvres on the patio before moving into the barn for a delicious meal prepared by Gedney Farm. Jacob's best man and Samantha's matron of honor gave hilarious speeches, the latter even bringing in a projector to support her story! With the slide show of photos rolling in the background, the music picked up and the party really started. The DJ's amazing playlist even got Jacob's 96 year old grandma to bust a move.
Later in the night, Samantha's sister surprised everyone with light-up sunglasses. The props made for some really great photos and were so much fun! As the DJ wrapped up the music, flat bread pizza was served as a late night snack before their guests headed to bed. What an amazing day!
Wedding Vendors
Flowers – Melissa Popp http://www.hugsandkissesflowershop.com/
DJ – JTD Productions http://www.jtdproductions.com/
Strings Trio – Tomas Rodriguez http://www.tomasrodriguez.com/
Photography – Eric Limon https://maweddingphotographers.com/
Hair – Lari Manz http://www.larimanz.com/
Makeup – Maria Pizzuro Cleary http://studiodayspa.com/makeup/
Dress – Melissa Sweet http://www.davidsbridal.com/Browse_wedding-dresses-melissa-sweet
Venue and Catering – Gedney Farm http://gedneyfarm.com/– Contact Michael for Gedney Farm Wedding Price
A Destination Wedding in the Berkshires
The Berkshires, located in Western Massachusetts, is a picturesque and diverse region that offers a range of options for destination weddings. From charming inns and elegant manors to outdoor venues with breathtaking views, the Berkshires has something for every couple.
One of the main attractions of the Berkshires is its natural beauty. The region is known for its rolling hills, lush forests, and sparkling lakes, which provide the perfect backdrop for outdoor weddings. Many venues in the Berkshires offer picturesque outdoor ceremony sites, including gardens, lawns, and terraces, where couples can exchange vows surrounded by nature.
For indoor ceremonies and receptions, the Berkshires has a variety of elegant and historic venues, such as inns and manors, that offer a charming and timeless atmosphere. These venues often feature period-style furnishings, grand ballrooms, and sweeping staircases that provide a beautiful setting for your special day.
The Berkshires is also a popular destination for arts and culture, which makes it a great location for a wedding that combines natural beauty with cultural experiences. The region is home to a number of world-class museums, art galleries, and theaters, which can provide entertainment and activities for your guests.
The Berkshires is a beautiful and diverse region that offers a range of options for destination weddings. Whether you're looking for a natural setting, a charming and historic venue, or a combination of both, the Berkshires is sure to provide a memorable and beautiful setting for your special day.
Looking for more of the best Berkshire wedding venues? Check out these posts: Interlaken Inn Wedding – Barn at Gibbet Hill Wedding – Clark Art Institute Wedding
---
---
You might also like
---