Ryan & Erika's Tupper Manor Wedding
Ryan and Erika had a beautiful, indoor wedding this past winter on a super cold February day. Tupper Manor at the Wylie Inn and Conference Center is located 20 miles north of Boston on the historic North Shore. The interior is so incredible, I can only imagine what the exterior must be like during the summer! We had planned on going outside for a bit to take some snowy photos, but it was just too cold. Enjoy!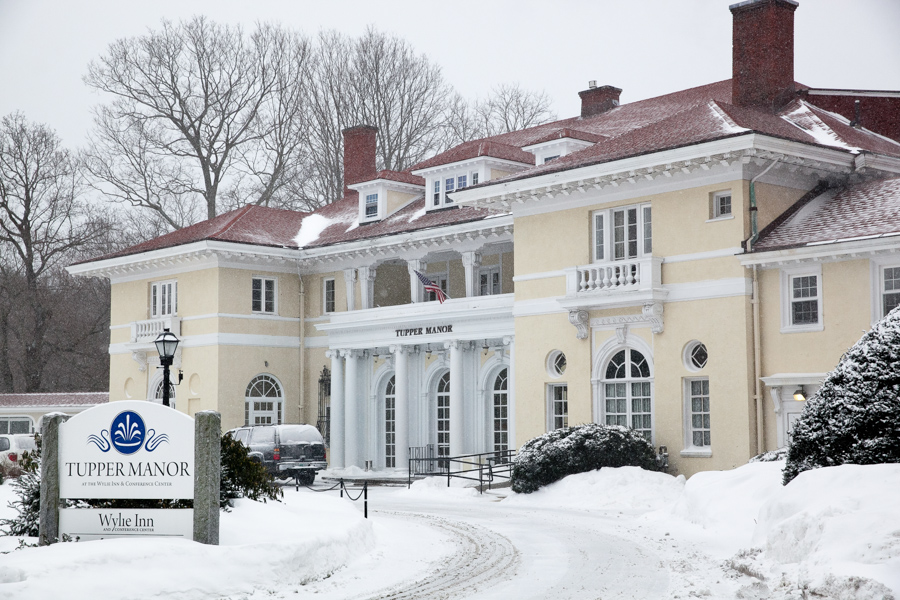 Tupper Manor Wedding
Tupper Manor at The Wylie Inn and Conference Center has an on-site event planner who ensures that each wedding couple's vision is beautifully executed. Because each bride and groom requires undivided attention, only one wedding at a time is scheduled. Bookings run for five hours, and setup is allowed two hours before guest arrival. Bookings may be extended subject to an hourly fee. Bookings are accepted for Fridays, Saturdays and Sundays only. Discounts are given for Friday and Sunday bookings.
An experienced chef has designed three catering packages for weddings, offering a tiered selection of gourmet cuisine prepared by its top-rate culinary team, using organic, locally available ingredients. All catering packages are fully customizable to adapt to any theme.
Situated across the bay from Salem and built in 1901, Tupper Manor is a classically beautiful venue for your big day. The gorgeous fountain welcomes you and your guests to the property and once you enter you'll be impressed with the Manor's historic architecture and lovely interior. The marble foyer is surrounded by stunning floor to ceiling mirrors and a striking curved staircase. As you leave the foyer, tall French doors will lead you to a glass-enclosed conservatory.
Surrounded by spectacular ocean views, your ceremony takes place on the expansive lawn before the fountain. All of your friends and family witness your vows as you share your first kiss as newlyweds. Later, a stunning reception unfolds in the brick-lined conservatory, filled with natural light from the striking wall of windows. Dinner is unforgettable, and then dancing commences on the beautiful hardwood floors of the ballroom, beneath brilliant crystal chandeliers. Your perfect day couldn't be more picture perfect at Tupper Manor.
The rental cost ranges from $2,000 to $7,000 for a reception and includes 5 hours of event time.
Looking for other wedding venues? Check out these other posts: Worcester Art Museum Wedding – Wequassett Wedding – Gedney Farm Wedding
---